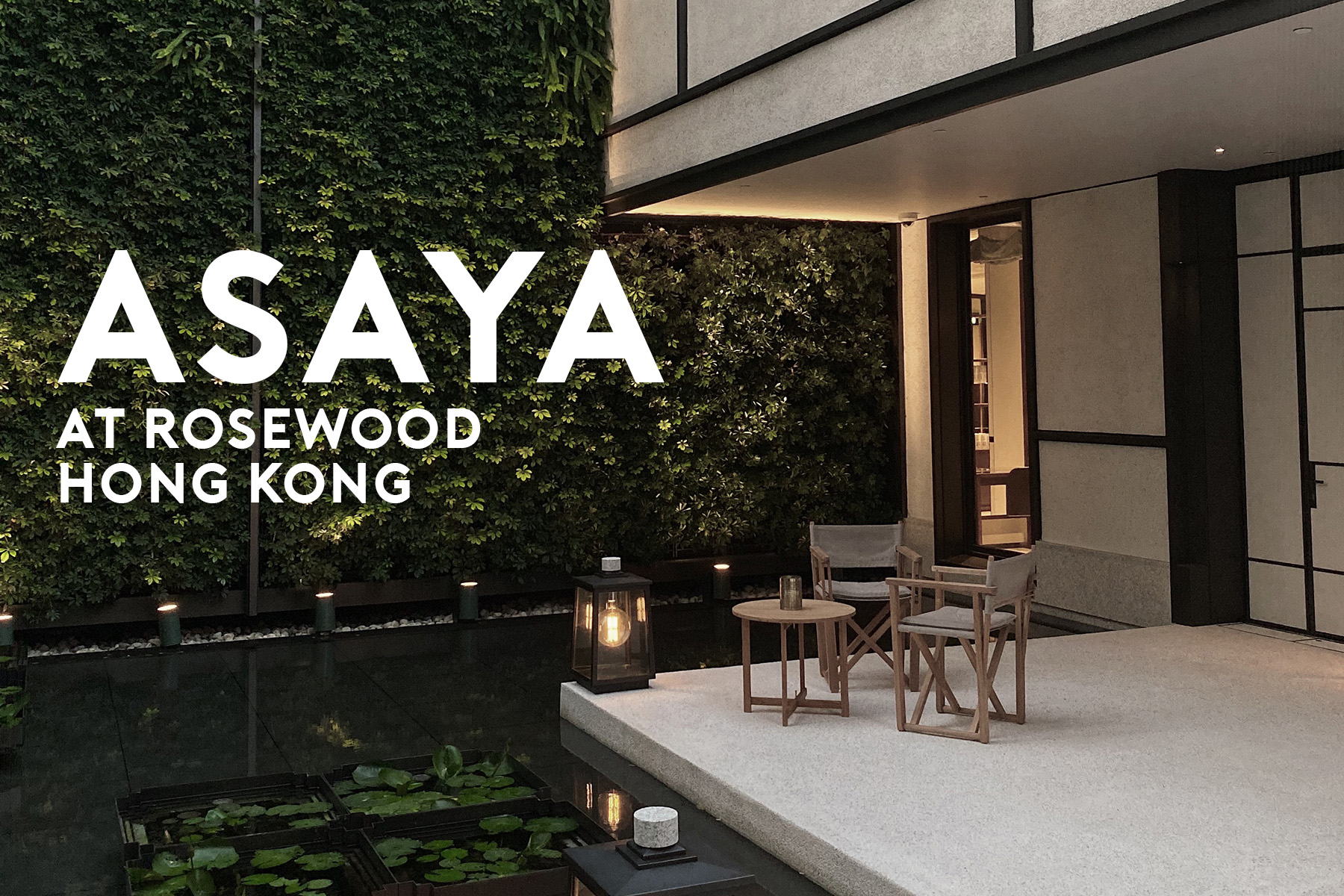 10 Dec

ASAYA: AT ROSEWOOD HONG KONG

There is a wellness experience nestled in Hong Kong that feels like you're in a dream. It's called Asaya, and it's inside my favourite hotel in the world – Rosewood Hong Kong.

As I write this, I still picture myself there. I can hear the delicate chime that signifies the beginning of treatments. It is a nice sound, one that wraps you in serenity.

Much like everything at Rosewood Hong Kong, Asaya is unique and tastefully opulent. It's a place where the circumstances are perfect for rejuvenating and grounding the only place you have to live: your body.

It is designed to take you on a journey of wellness through nutrient-dense food, personalised treatments with hand-crafted oils, and a state-of-the-art bathhouse.

The Asaya Kitchen was where I began my journey. The menu is created around a pescatarian diet, with a local-where-possible supply chain. Seafood is bought from a local fishing family each and every morning.

Our food sits colourful on plates, and our drinks taste refreshing and fizzy. Both are filled with natural ingredients that astound with memorable flavours.

At Asaya Wellness, the second part of the Rosewood journey begins. You are taken through comfortable questions about your treatment, which your specialist uses to personalise the experience.

Within the massage treatment, your specialist will also help you create a personalised body oil from scratch. Of which it will also be used within your massage. This is a sincere highlight. It is very special and becomes something that you can also take home with you.

Inside Asaya's walls, peace takes over. Vines cover simple but textured walls. Chairs are purposefully placed among poised greenery. It is tranquil and quiet. There is a perfect feeling of balance here.

The bathhouse, kept traditional with both a male and female area, is where the pre-treatment zen happens. You will find an infra-red sauna with marble seats to aid deep detoxing. There is a cold pod that will spray you with peppermint mist for cooling. And a hot bath that puts the final touch on a holy trinity of relaxing wellness.

I haven't mentioned how between these moments there are still sprinkles of little things that make Asaya what it is. The tasty elixir you receive on arrival, the treatment rooms with never-ending tea, or the change rooms that have fridges filled with fresh lemongrass water or pandan infused water.

Rosewood has a touch for the exquisite, and Asaya is just that. A one-of-a-kind destination who's guests won't want to leave.

Next time you are in Hong Kong, remember Rosewood and remember Asaya.

You just may find you'll be restored.